Update on the EU EUDAMED Timeline
On 6 July 2022, the European Commission (EC) updated the publicly posted timeline concerning EUDAMED development, audit and launch activities. This new timeline places milestones exactly 1 year later than previously published.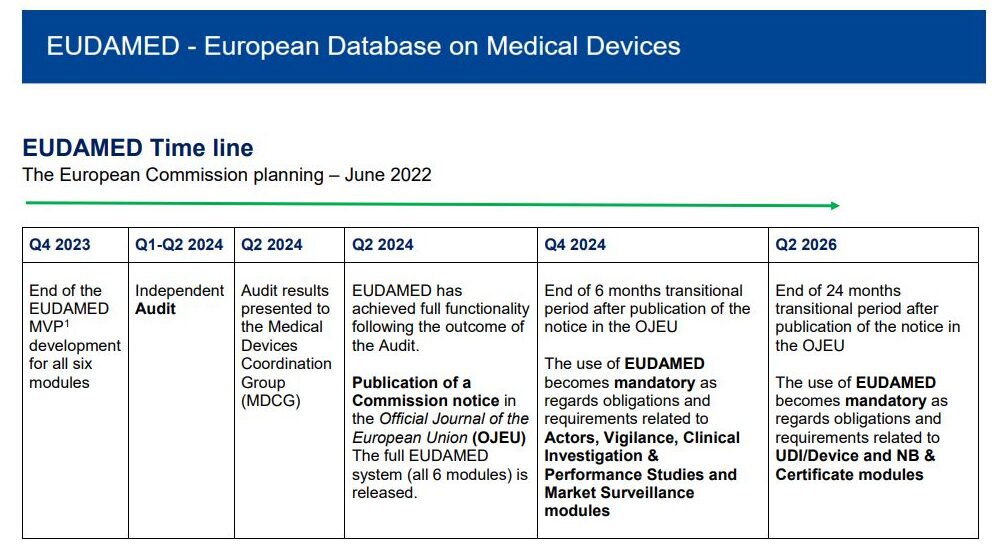 What Does This Updated Timeline Mean?
Although the EC did not provide any reasoning or implications with the updated EUDAMED timeline, the following items are implied.
The one-year extension allows additional time for industry to prepare for EUDAMED submissions
EUDAMED development will continue through 2023 with the audit to follow in early 2024
The mandatory UDI/Device Registration Transition period is from 2024-Q4 to 2026-Q2 (18 months)
The EUDAMED Playground environment is still expected to be updated in mid-July 2022 and contain changes to the UDI/Device Registration and Vigilance modules and the launch of the Clinical Investigation module
The EUDAMED Production environment is still expected to accept on-going voluntary submissions to the Actor, UDI/Device, and Certification/NB modules
As always, we will keep abreast of any updates and communicate accordingly.
What to Do Now
With this additional time, manufacturers are encouraged to continue EUDAMED submission preparations including Actor registration and UDI/Device registrations.
Maintain momentum – it is more efficient/productive to continue preparations and avoid losing team focus, cost of restarting the activity, and loss of trained staff
Avoid resource overload in complying with other global Health Authority deadlines in the near future
Use allocated budget/funding
1. Create MDR/IVDR Environment
Finalize and launch your MDR/IVDR approach if not already done. Create regulatory/UDI governance team, identify requirements for your products, evaluate your situation and portfolio, create plan, prepare/upgrade system infrastructure, establish UDI data management and submission solution, establish internal policy/process/procedures, provide training, engage NB
2. Collect Documents and Data
Prepare Documents – create/assemble technical documents, clinical evaluations, labelling, conformity assessments, MDR Class I/IVDR Class A self-certification, Declaration of Conformity, others.
Prepare Product ID and Data – set up product ID standard, assign product identifiers (Basic UDI-DI, product UDI-DI), gather product UDI attributes, establish governance
"Manufacturers should note that the obligation of UDI assignment (Basic UDI and UDI-DI) to a device applies from 26 May 2021 (Art. 27(3) MDR)" (MDCG 2021-1 Rev.1)
3. Cleanse UDI Data
Verify product identifiers and attribute data, normalize and validate source UDI data to EUDAMED business rules, establish version and approval controls
4. Comply with Regulations
Register Your Organization – create your EUDAMED Actor module account, request your Economic Operator SRN
Register Device Pre-Production/Production Data – exercise your EUDAMED UDI submission method, test data submissions, verify submission success
Don't Procrastinate – use time wisely to collect, cleanse, test, and report high-quality UDI data; the process typically takes longer than expected.
Reed Tech Provides Valuable Help in Preparing for the EU EUDAMED Launch
Guidance and Expertise – Access subject matter expert UDI knowledge to shape your UDI data management strategy for EU, FDA, other regulators and business partners worldwide
Data Collection Tools – Efficiently collect EUDAMED data and discover gaps
System Test Environment – Exercise and verify successful data transfer and import functionality from your system to the Reed Tech system
Data Cleansing Platform – Support your efforts in ensuring your data meets the EUDAMED data validation rules
Structured UDI Repository – Manage, control and store your UDI values and attributes in a secure environment from inception to support
Reed Tech provides valuable support in preparing for the inevitable EUDAMED implementation. Contact the Reed Tech Team (or call 1-215-557-3010 / email [email protected]) for more information and explore how Reed Tech can help you meet your global Medical Device UDI data management challenges and requirements.
Download the EU EUDAMED Quick Reference
Share this quick reference on the EU EUDAMED timeline with your team.