FDA Drug Product Data Management
Reed Tech SingleSource™ for Drug Products
Centrally manage FDA human prescription, over-the-counter and animal drug product submissions data in Structured Product Labeling (SPL) format
SingleSource™ for Drug Products is a web-based application developed to 21 CFR Part 11 compliant standards that allows drug product manufacturers and distributors to collect and store their global product listing, establishment facility and labeler company data in an easy to use master submission data library.
How can Reed Tech SingleSource™ for Drug Products help?
Multi-Function Solution: SPL preparation and management helps meet strict FDA guidelines with data collection, capture and validation
Leverage a single source of truth for product listing information, eliminating time searching databases that may span multiple departments or facilities
Available 24/7 in a Software-as-a-Service model without the need to install or validate software helps lower IT cost and the need for third party support
Data validation based on up-to-date FDA business rules and industry controlled vocabularies ensures data accuracy
Standardized SPL conversion request template, allows for quicker order processing and placement into the Reed Tech production process
Ensures consistent usage across all users in a simple, guided system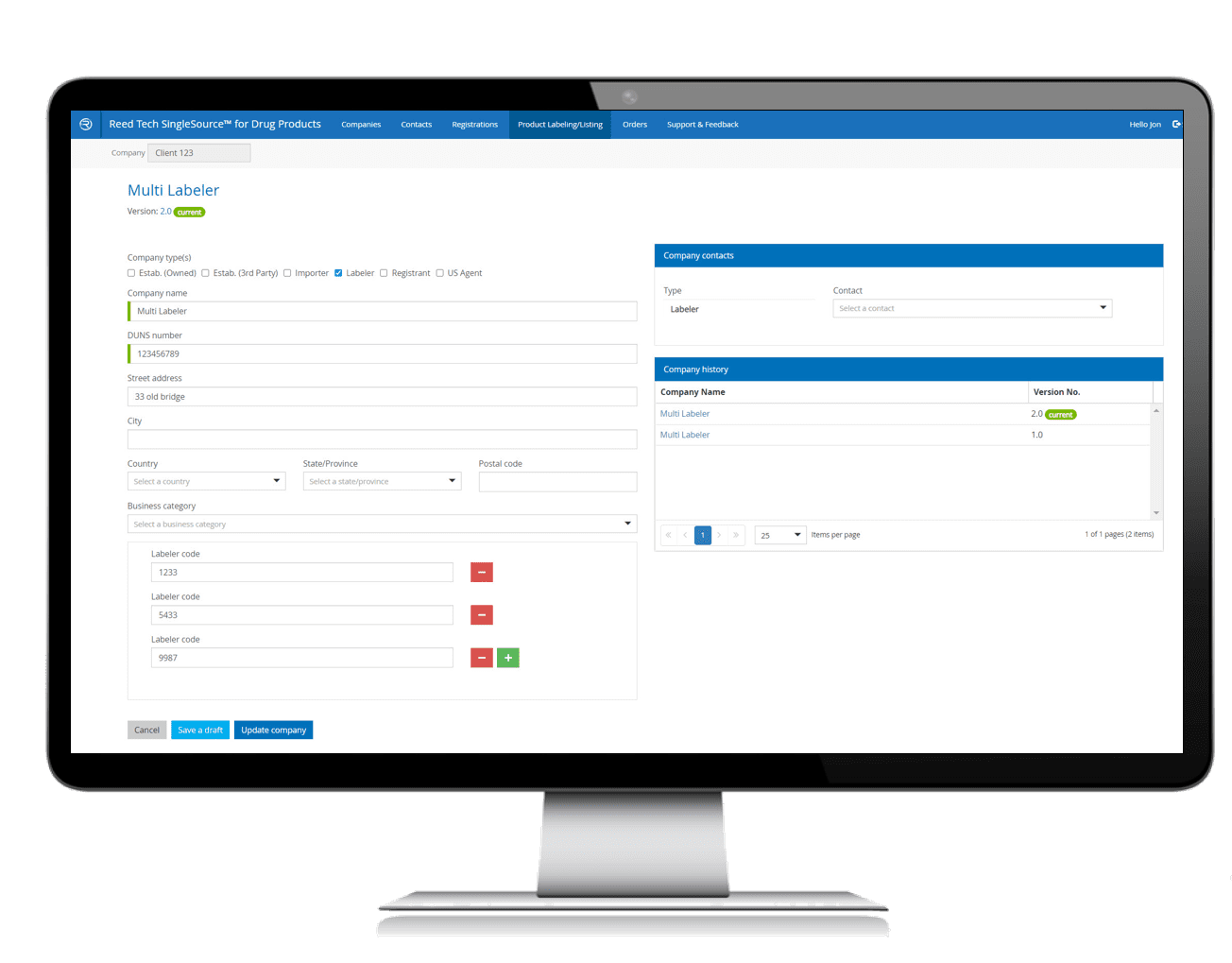 Enter data once, use many times
SingleSource™ for Drug Products provides on-demand HL7 Structured Product Labeling (SPL) format generation for all human prescription, over-the-counter, dietary/herbal medicines and animal drugs, allowing you to meet strict FDA deadlines without requiring third-party support or premium costs.
Easy-to-use web-based SPL forms include built-in FDA business rule verification for quick identification and resolution helping to remove ambiguity around the accuracy of your data. Once your data is imported or entered into the system, you can use it many times with peace of mind that your data is accurate and meets FDA requirements.
SingleSource™ for Drug Products Features
Secure Regulatory Data Management
Store product data in a secure cloud repository
Orders can be filtered, sorted or found in a combined search feature
Retrieve deliveries and download, accept, resubmit or cancel orders
Streamlined SPL Conversion Process
SPL creation, validation and management in one
Reduces time to submission
Improves processes for cross-functional teams
Data management for drug product, establishment facility and labeler company data
On-demand SaaS SPL generation for SPL-ER, SPL-LCR and Product Listing Metadata updates
Transparent and Collaborative Workflow
View into progress of work for all users
Facilitates meeting internal and FDA deadlines
Filters and prompts integrated for a seamless, guided process
SingleSource™ for Drug Products
SingleSource™ for Drug Products was built to meet the product data management needs of pharmaceutical companies. See what it can do for you.
Sign up for a demo today.
"Reed Tech SPL Services delivers quality results on time, every time. They are committed to meeting the needs of their customers and always keep pace with changes in FDA's standards. "
–Regulatory Affairs for a global pharmaceutical company
Questions? We are here to help. Visit our Knowledge Center or Contact Us.