Medical Device Unique Device Identification (UDI)
Experienced UDI Data Submission to Global Health Authorities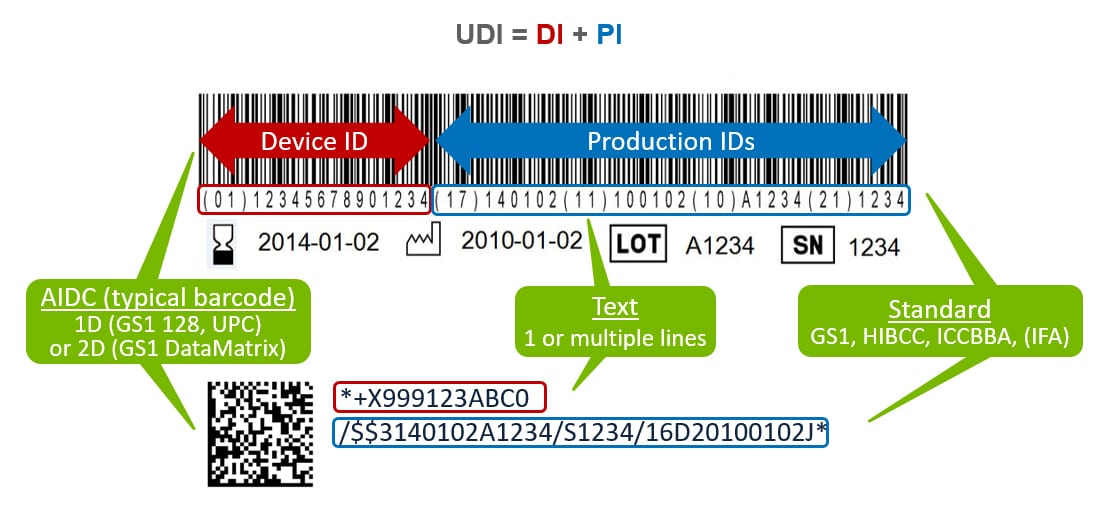 Easily maintain a source data set and provide accurate product data to regulatory authorities and customers
Reed Tech is a leading FDA supplier of Unique Device Identification (UDI) information, submitting close to one-quarter of all NLM Access GUDID UDI records annually, representing about 34% of electronic SPL submissions to GUDID.
With SingleSource™ for Medical Devices, UDI data is managed throughout the product lifecycle in a compliant SaaS environment and includes scalability for additional volume and global health authorities. Reed Tech has active UDI channels for US FDA, China NMPA, South Korea MFDS and staging for EU EUDAMED.
Global UDI Summary by Region
Below is a high-level summary of UDI-related activities by region. It includes UDI plans and timelines for various regulatory authorities and commercial trading partners. As the number of global entities requiring medical device UDI database information grows, Reed Tech will add selectable channels for data submission to regulatory bodies and data syndication to commercial trading partners. Strategic product data management supported by a deep understanding of medical device regulatory and user UDI data requirements will ultimately contribute to improved outcomes for both healthcare providers and patients.
GLOBAL UDI REQUIREMENTS BY REGION

UDI Global
Australia (TGA)
2022 Jun – ASUDID sandpit (beta)-general use, testing
TBD – Regulations and Guidance-in effect
TBD – Voluntary Compliance (high risk Class II, III, AIMD)
TBD – Mandatory Compliance (implants)-UDI labeling, UDI data
Approach: similar to EU regulation; UDI/Device registration and UDI labels implemented by MD and IVD classes
UDI Data: 'EU-like' attributes reported to AusUDID
UDI Label: HRI & AIDC; Direct Mark
STD: GS1/HIBCC/ICCBBA, EMDN/GMDN?
Info: TGA Medical Device & IVD
Brazil (ANVISA)
2020 Jun – UDI Barcode inserts required in a few implant product packages; UDI dat reported to RNI by healthcare provider
2021 Feb  – UDI System Publication
2023 – Class IV (highest-risk) devices
2024 – Class III (high-risk) devices
2025 – Class II (moderate-risk) devices
2027 – Class I (low-risk) devices
Approach: Pilot started with package UDI barcodes on Coronary Artery Stents and Hip & Knee Arthroplasty Implants
UDI Data: Few attributes reported by healthcare provider to National Implant Registry (RNI)
UDI Label: DI, Expiry Date, Lot/SN in AIDC (1D or 2D barcode) on (3) Mfr-supplied "Traceability Labels" with product pkg
STD: GS1/HIBCC
Info: ANVISA (National Health Surveillance Agency)
Canada (Health Canada)
2022 – Proposal Health Canada UDI 
Approach: Ongoing UDI preparation, expected to follow IMDRF UDI recommendations
China (NMPA)
2019 2H – UDI Pilot, Rules, UDID database tests
2019 Sept 17 — Batch 1 Notice timing and list
2020 Sept 30 – Batch 1 Delay and 69 (64+5) categories
2021 Jan 01 – Batch 1 UDI Data & Label Required

2022 Jun 01 – Batch 2 (Remaining Class III)

2024 Jun 01 – Class II
TBD – Class I and Remaining Devices
European Union (EC)
2020 Dec 01 —Actor  Voluntary Economic Operator Registration

2021 May 26 – Medical Devices DoA for MDR, Class I Self-Certification

2021 Oct 4 – 2023 end – UDI/Device Voluntary Registration

2022 May 26 – IVD Devices DoA

2024 mid – EUDAMED fully functional notice

2024 end to 2026 mid: Mandatory Registration period or upon Serious Incident / EUDAMED Production begins
Approach: MDR/IVDR revamped regulatory framework; register device/UDI data and apply UDI to labels per Legacy, MDR, IVDR rules and timing
UDI Data: 109 attributes to EUDAMED; New BUDI-DI group concept
Data Sub: Website entry/upload or electronic XML (via Data Exchange) to EUDAMED
UDI Label: HRI & AIDC by class (III-2021, IIa/b-2023, I-2025); Direct Mark by class (Label + 2yr)
STD: GS1/HIBCC/ICCBBA/IFA; SRN; EMDN
India (CDSCO)
2022 Jan 01 (To Be Confirmed) – UDI Placed on Labels (may be delayed due to COVID) 
Approach: Start with UDI on Medical Device Labels' future expansion with UDI registration database
Info: CDSCO (Central Drugs Standard Control Organization)
Japan (PMDA)
2008 Mar – Guideline for Barcode Labeling
2019 Dec 04 – PMD Act required barcode lables and registration
Approach: Report device info to database and apply barcode to labels for medical devices and IVDs; future UDI reporting to UDI database
UDI Data: device reistration includes: Product Code (DI), Expiry Data, Lot #, Serial #
UDI Label: HRI and AIDC (1D GTIN-128 barcode symbol or 2D); no Direct Marking now
STD: GS1
Info: PMDA (Pharmaceuticals and Medical Devices Agency)
NHS England
2017 Sep – Class III Devices

2018 Sep – Class IIa/b Devices

2019 Sep – Class I Devices

2021 Sep – Class A, B, C, D IVD Devices
Approach: Product Data Publication & UDI Label; PEPPOL network for Procurement Data (slow adoption)
UDI Data: ~60 attributes
Data Sub: GDSN (product); PEPPOL (orders)
UDI Label: HRI & AIDC; Direct Mark
STD: GS1 only (GTIN and GDSN required)
Netherlands
2018 July – Mfr apply UDI on label of Inclusion List products
2019 Jan 01 – National Implant Registry (LIR) started

2020 Jan – Healthcare providers must register patient implant data in Dutch National Implant Registry (LIR) referencing UDI product data published by Mfr in the "GS1 Data Source"

2020 Jan 01 – By implication Mfr required to report UDI data to GS1 Data Source and apply UDI on label of Inclusion List products
Approach: Start UDI prior to EU timeline with devices on "Inclusion List" (~500 Class III and IIb implants)
UDI Data:  9 basic (~50 GDSN) attributes
Data Sub: Website entry or electronic GDSN to "GS1 Data Source"
UDI Label: HRI & AIDC (1D or DataMatrix); include ID (and Lot #, Expiry Date, Serial # as req'd)
STD: GS1/HIBCC/ICCBBA
Info: Dutch National Implant Register (LIR)
Saudi Arabia (SFDA)
2019 Apr 08 – UDI Draft Requirements released
2019/2020 – UDI Pilot
2020 Sep 06 – UDI Formal Requirements (v.3) released
2023 Sep 01 –  Class B C, D devices (was 2022 Sept)
2024 Sep 01 – Class A
Singapore
2022 High-risk implantables (3)
2024 Class D (High-risk)
2026 Class C (Medium-risk)
2028 Class B (remaining)
Voluntary Class A (low-risk)
South Korea (MFDS)
2018/2020 – Guidelines for Barcodes & UDI Codes
2019 Jul 01 – Class IV Devices UDI Labeling req'd
2019 Oct – Class IV Devices UDI Labeling req'd
2020 Jul 01 – Class III Devices
2021 Jul 01 – Class II Devices
2022 Jul 01 – Class I Devices
+1 year – Monthly Supply Report Req'd
Approach: UDI data reporting and UDI Label by class AND submit Supply Report (Track & Trace) of ~10 distribution metrics each month
UDI Data: 40attributes to IMDIS (Integrated Medical Device Information System)
Data Sub: website XLS upload /complete data / upload file or machine-to-machine XML transfer via API by Local Rep
UDI Label: HRI & AIDC, Direct Mark
STD: GS1 (default), HIBCC & ICCBBA (special)
Info: MFDS, IMDIS UDI System
Taiwan
Events
2015 -Oct: Administrative Guidance
2020 – Nov: UDI Announcement
Compliance Timing
Class III implantables: 1 June 2021
Class III non-implantables: 1 June 2022
Class II devices: 1 June 2023
Description
Approach: new device UDI data labels; similar to FDA model
Database: UDID
Data: 24 Attributes; similar to FDA (No BUDI)
Sub: TBD
Label: HRI & AIDC (1D or 2D), Direct Mark
STD: GS1, HIBBC, ICCBBA
Info: FDA Medical Devices
UK (MHRA)
2021 Jan 01 – Brexit effective, Guidance released
2021 Jan 01 – UK-mfg Class I, Custom, IVD register
2021 May 01 – III, II Implantable, Active Implantable, IVD A register
2021 Sep 01 – IIB other, IIa, IVD B, IVD Self-test register
2022 Jan 01 – OUK-mfg Class I, Custom, IVD register
2023 Jun 01 – CE replaced by UKCA mark; Legislation expected to require UDI
Approach: UK regulatory framework revamped due to Brexit; Mfrs and Devices must be registered in MHRA; GB will NOT comply with EU MDR/IVDR (Northern Ireland will); UDI voluntary field – future UDI legislation will require UDI.
UDI Data: ~70 attributes similar to EU reported to DORS (Device Online Reg. System) includes BUDI-DI
Data Sub: Website manual entry or XLS upload (1,000 max records); perhaps future machine-to-machine
STD: GS1/HIBCC/ICCBBA/IFA; GMDN, UKCA
Info: MHRA Medical Devices (Medicines and Healthcare Products Regulatory Agency)
United States (FDA)
2014 Sep – Class III Devices
2015 Sep – I/LS/LS Devices
2016 Sep – Class II Devices
2020 Sep – Class I Devices, enforced 2022 Dec (previously was 2022 Sept) See Final Guidance
• Approach: Report UDI Data & apply UDI to Labels by class
• UDI Data: 57 attributes to GUDID
• Data Sub: Website entry or electronic SPL (via ESG)
• UDI Label: HRI & AIDC; Direct Mark
• STD: GS1/HIBCC/ICCBBA; DUNS; GMDN/FDA
Learn more about approaches to managing UDI product data
Unique Device Identification, or UDI is a regulatory requirement first enacted by the US FDA, and now adapted by regulatory agencies around the world. UDI enhances patient safety by identifying each product with a static device identifier denoting the device labeler and the specific model or version of a device and the dynamic product identifier which identifies the expiration date, serial number, manufactured date or the lot/batch number of the device. While the UDI is created through the guidelines of an approved issuing agency, the medical device manufacturer is responsible for performing a submission of the identifier along with several product data attributes. If all of this sounds confusing, Reed Tech is here to help.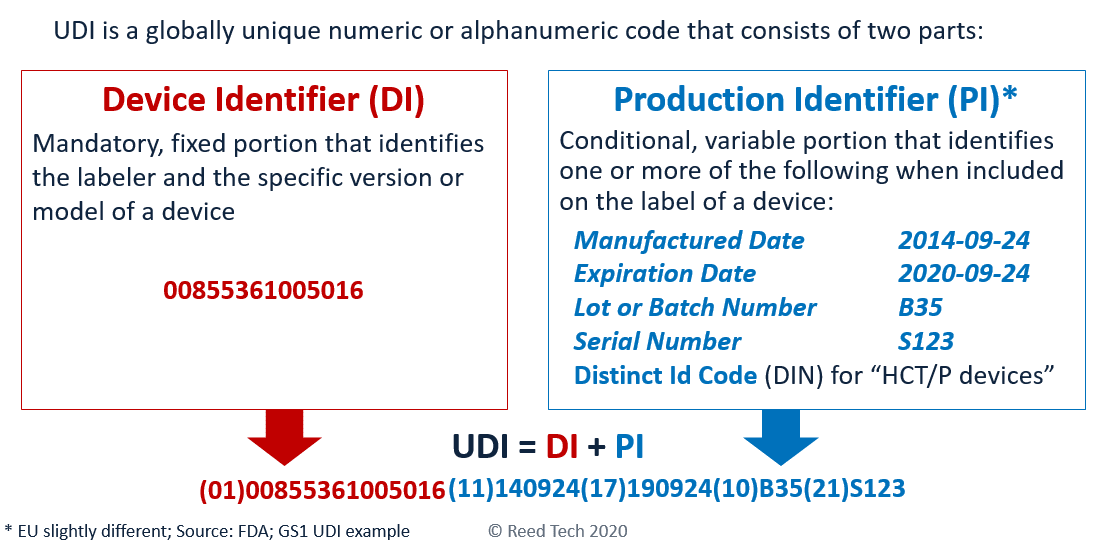 SingleSource™ for Medical Devices
SingleSource™ for Medical Devices was built to meet the product data management needs of Medical Device manufacturers. See what it can do for you. Sign up for a demo today.
"Excellent customer and technical support. Reed Tech is a true partner – an extension of our internal resources. Their software solutions are enabling us to successfully meet UDI compliance dates in the US and UK."
– Regulatory Director at a premier provider of infection prevention and other procedural products and services
Health Authorities and UDI Requirements
UDI in the U.S. FDA GUDID
Class I devices and devices that have not been classified into Class I,  II or  III  must submit product data to the FDA's GUDID by December 8, 2022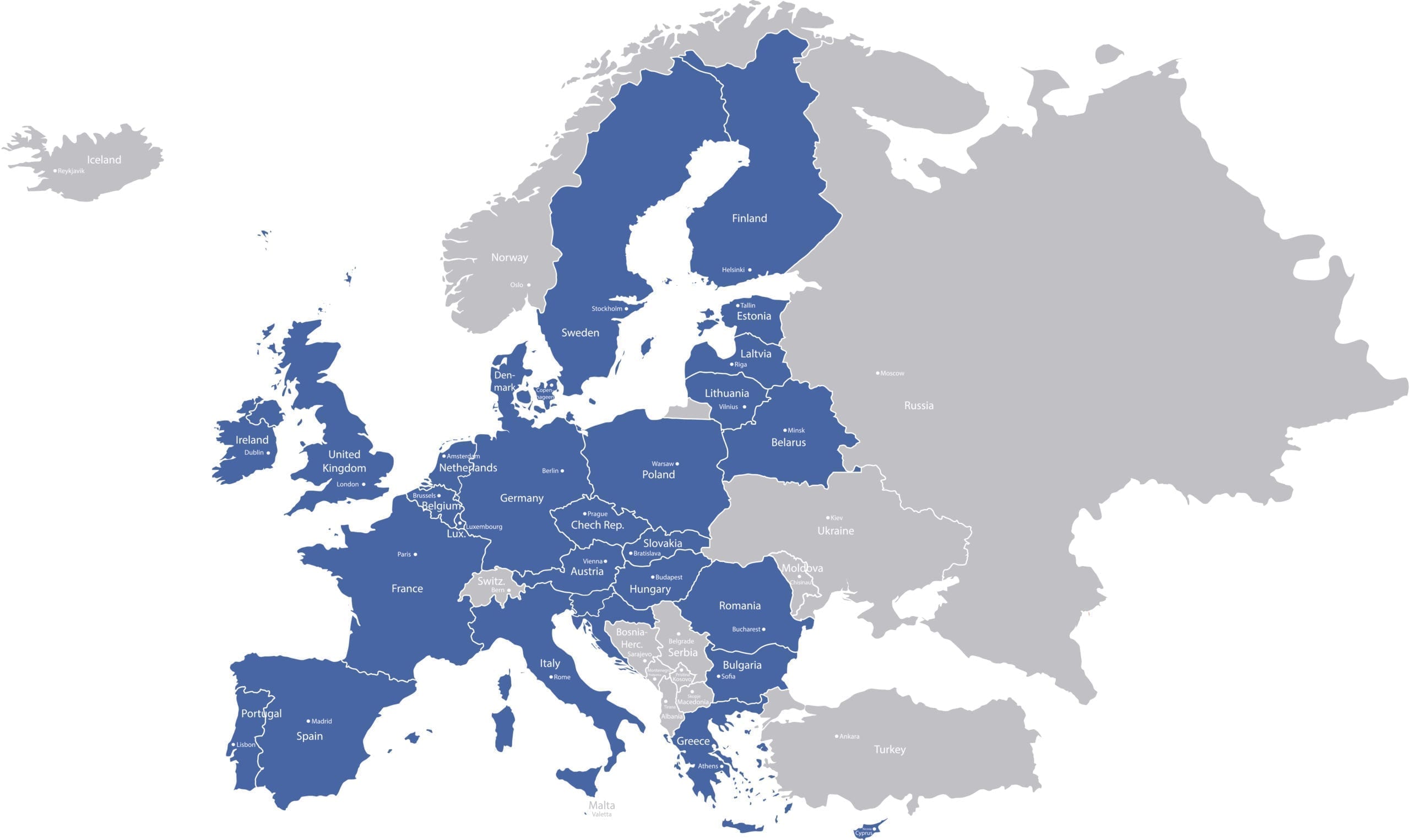 UDI in the European Union
Learn more about the data attributes, regulatory, legislation, and distinct differences between FDA GUDID and EU EUDAMED
Health Authorities in Asia
Resources for understanding Unique Device Identification (UDI) regulatory requirements in Asia including China and South Korea
Questions? We are here to help. Visit our Knowledge Center or Contact Us.