Analyze Medical Device Safety, Quality and Regulatory Data
Reed Tech Navigator™ for Medical Devices
Navigator™ gives you the power to analyze regulatory data
Search a comprehensive database of companies, products and safety events from FDA and other publicly available sources
Database is cleansed and normalized to link companies, products and events
Search by FDA product codes, brand and manufacturer names, intended use / indications for use, key word and other criteria
27,000+ Manufacturers and establishments
129,000+ Class II and III medical device products
173,000+ FDA Clearances and Approvals
24,000+ Recalls
9,500,000+ Adverse Event Reports
Updated with new data monthly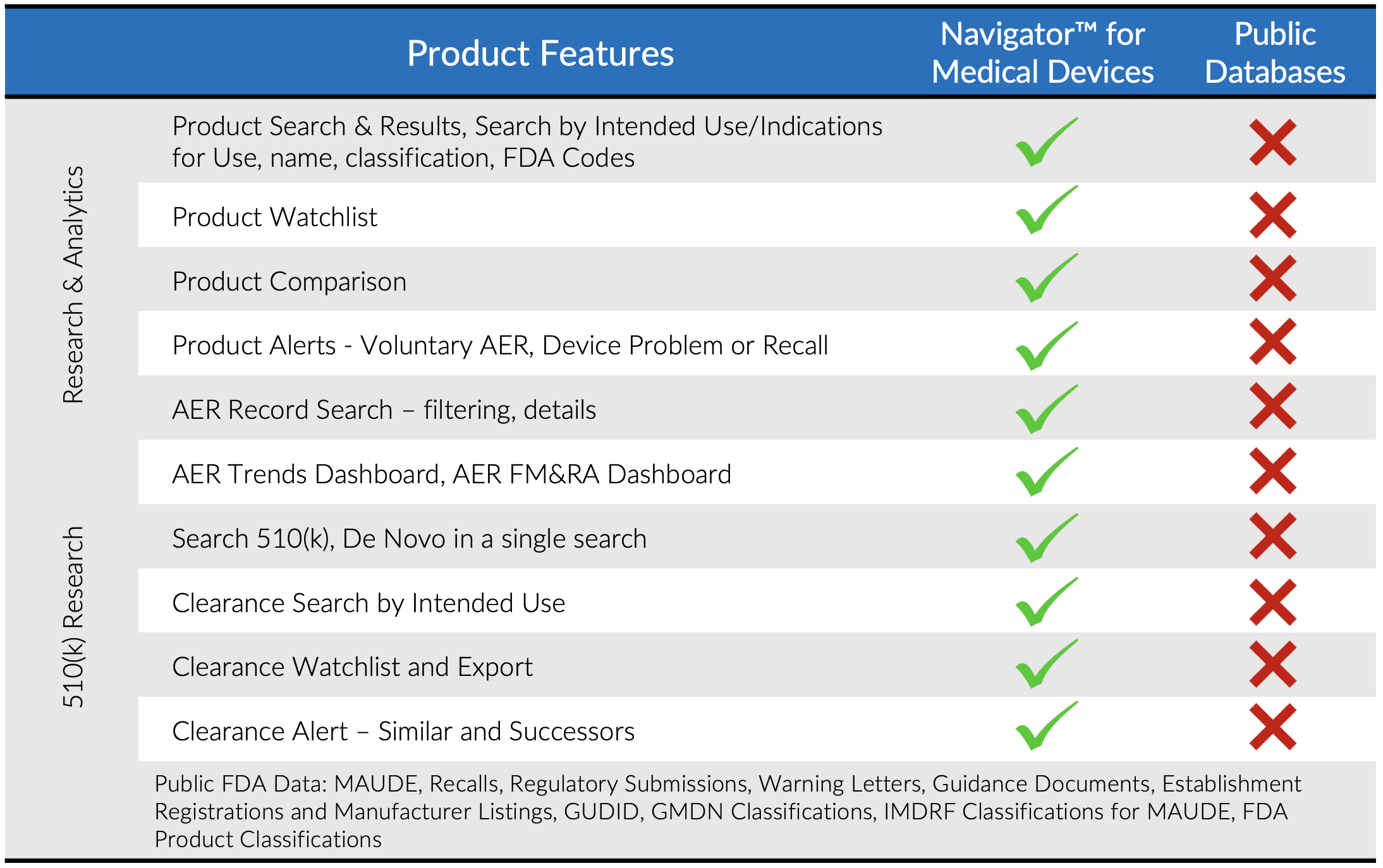 *Search by intended use/indications for use is a feature only found in Navigator.
How does Navigator™ make regulatory research more efficient?
Multiple filtering and criteria options make search and retrieval in Navigator superior to the limitations of most publicly available databases.
Would you like to learn more about competitors or industry standards when it comes to adverse event reports or recalls for a specific medical device or category of devices? Do you need to find an appropriate 510(k) for a new product application? Is due diligence required to research trends for a specific legal case? *Do you need to pin-point specific products based on their intended use or indications for use?
Set Watchlists and alerts and find the answers in Navigator.
Get started with Navigator™
Single User 510(k) Research
from
Single User Research + Analytics
from
Research + Analytics + 510(k)
most popular choice
Monthly pricing based on one-year subscription. Individual customization and minimum three-month subscription length available. Taxes not included.
Eliminate frustration and save hours compared to searching for risks related to a particular product across the FDA's disparate databases.
Quickly find a specific product – or find all products of a particular type – and see at-a-glance which has the most adverse event reports, recalls or warning letters.
Watchlists – Products and/or FDA Clearances
In just a few clicks, build a list of products you want to monitor on an ongoing basis for new information.
Predicting Medical Device Safety Recalls Using Publicly Available Data
Navigator™ for Medical Devices is a unique, best-in-class solution designed to help:
Find the best predicates to expedite your 510(k) applications and discover and monitor safety events.
Easily identify predicate devices to bring a new device to market through the FDA's 510(k) application process.
Find the best predicates for your client's 510(k) applications and discover and monitor safety events. 
Find predicate and successor devices and simplify your post-market surveillance efforts.
Monitor your inventory for new safety events and compare quality of devices before purchasing. 
Quickly identify product liability using data analytics to compare safety profiles of like devices. 
"The more I search and filter in Navigator, the more impressed I am with the depth of insight it provides. There's nothing else like it for trending Adverse Event Reports and quickly seeing an individual product as compared to the industry in the criteria of your choosing. The utilization of all the filtering possibilities, including the use of the FDA product codes and GMDN coding enables on-point reporting you can't get anywhere else."
– Mark Wasmuth, CEO, GMDN Agency
Need a more customized package?
Contact us for a subscription built for you!