Why your product data needs to be in GDSN…NOW!
If you manufacture medical devices, you know the challenges in managing accurate, current, and complete product data and sharing it with your trading partners. Your data consumers, both internal and external, trust your provided data to be of the highest quality, but unfortunately, you may find gaps in your data integrity and efficient means in communicating consistent product information to your customers. Current trends place additional requirements in transferring your product information in a structured electronic format, e.g., the Global Data Synchronization Network (GDSN).
Build a Robust Data Management Foundation
A prerequisite for effectively controlling your product data is establishing a master data management system and implementing critical elements of governance, change management, and workflow. A centralized repository that enforces a single source of truth has many advantages and can be concurrently accessed by your employees located around the globe. It is imperative that you have full confidence in the accuracy, currency, and completeness of the product information before sharing it with others. Be aware that if the scope of the product information includes regulatory content then additional safeguards and business rules need to be implemented to meet compliance regulations.
Share Your Product Information
Once data integrity is assured, you can confidently share consistent product information with your internal users and distribute it to your external trading partners. The goal is to efficiently broadcast uniform product information to your trading partners without creating multiple, custom connectors that incur additional cost and quality checks to avoid data corruption. The current environment for communicating product information, unfortunately, includes a myriad of manual interchanges and if electronic transfers are supported, they are frequently customized, single-point solutions.
Use a Super Data Highway
The good news is that the Global Data Synchronization Network (GDSN) provides a single platform to efficiently communicate accurate, current product information to your trading partners. GDSN is administered by GS1, a non-profit, international organization that develops and maintains standards for supply and demand chains across multiple industry sectors. GS1 brings together industry stakeholders and influencers to ensure that the developed standards benefit the targeted community.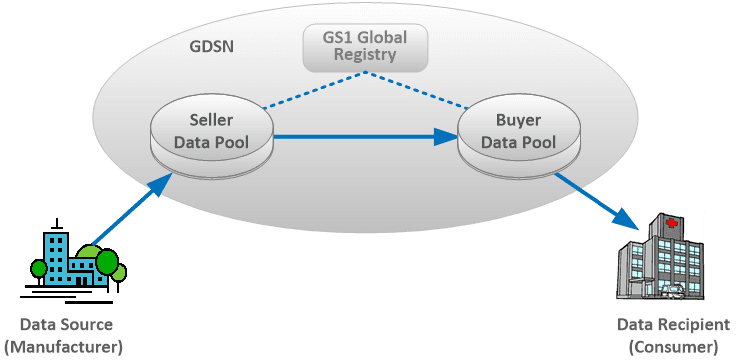 The GDSN supports multiple industries including healthcare and links together the following entities:
GS1 Global Registry® – a directory that establishes relationships between trading partners
GDSN Data Pools – multiple certified organizations that exchange electronic catalogs of standardized master data
Sellers (manufacturers/suppliers) and Buyers (consumers/recipients)
Once a seller approves a buyer to receive syndicated product information, the seller can then publish the product catalog to the buyer. The seller and buyers using GDSN share in the following advantages:
Published product information is accurate, current, complete, and uniform
All parties, seller and buyers, work on the same set of product identifiers and attributes
Product updates are automatically and simultaneously directed to all syndicated buyers
New products are introduced easier using an existing platform
Satisfy Your Buyers and Claim The Benefits
Many in the healthcare industry including Group Purchasing Organizations (GPOs) and large healthcare networks see the benefits realized in other industries and are implementing a GDSN-based data exchange system. If not currently, then soon, your trading partners may require you to provide product data via the GDSN. If driven by a business contractual requirement or if proactively implemented, a GDSN solution presents an opportunity for you and your trading partners to claim numerous benefits from "speaking the same language" and stay in sync.
Improved communication efficiencies can be gained by both seller and buyer using the established GDSN exchange standard for existing products and in the introduction of new products. Accurate and current product identification provided by GDSN yields downstream benefits in procurement activities including product and order placement, acknowledgments, shipping notices, and invoices. In addition, supply chain management, product fulfillment, and inventory control are improved from better product identification. Electronic and reliable product information reduces data errors and costly manual processes that tend to be slow and labor intensive. Accurate product identification also facilitates product traceability, analysis of product issues and adverse events, management of recalls, all supporting a higher quality of care that benefits patients. Ultimately quality data communicated in a timely manner contributes to making technology work for the entire supply chain.
Act NOW!
Now is a good time to evaluate your product data management infrastructure and data exchange solution. Your participation in GDSN is a significant strategic business decision that provides a communication platform with your trading partners and a capability advantage over your competitors. Don't wait to ensure your efforts of obtaining and sharing valuable medical device data are optimized for the best savings in time and resources. In the simplest terms, what you need to do NOW is:
Evaluate and define a product data management plan involving critical stakeholders, e.g., IT, engineering, product owners, operations, regulatory, and finance
Include a provision to migrate existing data and ensure/improve data quality
Secure experienced guidance and a data management solution which will result in optimized processes and the best use of resources
Join GS1 and a GDSN data pool and establish GDSN capability with your trading partners
How Reed Tech can help
Reed Tech and 1WorldSync have collaborated to provide a solution for medical device product data management and GDSN publication. The Reed Tech SingleSource™ system provides data management functions and seamlessly integrates with the data exchange capabilities of 1WorldSync, a GDSN data pool and leading provider of product content solutions. With Reed Tech SingleSource you can manage all phases of data management and GDSN publication. Some benefits of working with Reed Tech include:
Manage medical device product data in a single, compliant repository
Share medical device product data with trading partners through the GDSN
Meet contractual GDSN obligations of GPOs, Health Transformation Group (HTG), and influential hospital networks
Fulfill National Health Service (NHS England) eProcurement GDSN requirements
Meet GDSN connection requirements of future GDSN adopters
To get ahead of the number of demands, be proactive now! Across various industry initiatives including GDSN, NHS England, FDA UDI, EU MDR, and others, a common theme is clear—centralized data automation is here to stay. The medical device industry's deadline for data accuracy is now.
Need help understanding GDSN, UDI, or other product data requirements? Do you need experienced help getting started? Visit the Reed Tech Knowledge Center or contact us at [email protected].
We will be happy to help you put a plan in place.