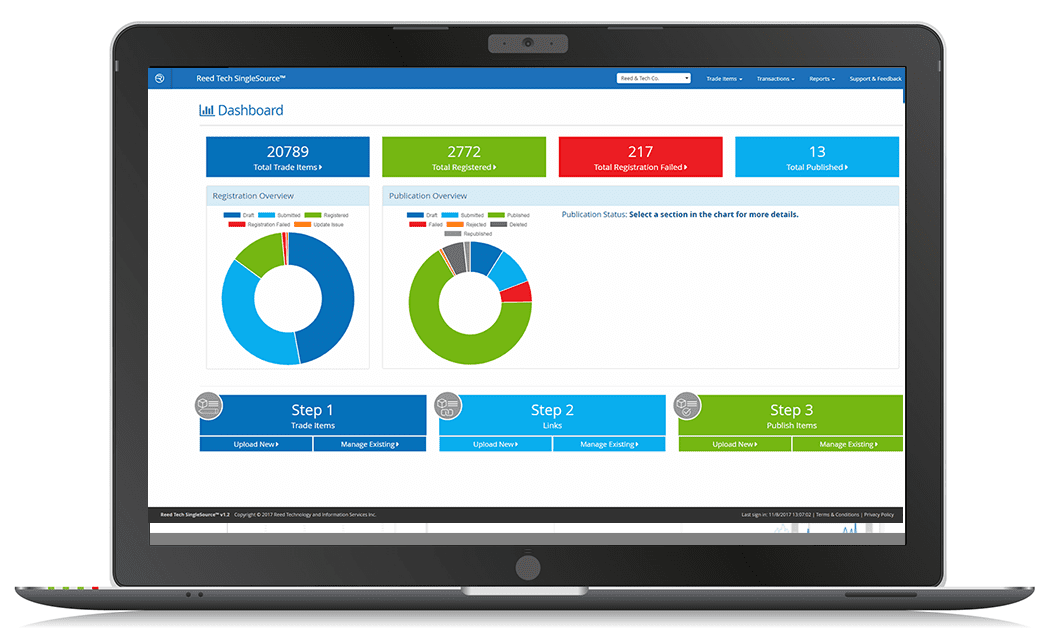 Reed Tech, a LexisNexis® company and leading provider of data management and analytics solutions for the life sciences industry, introduces Reed Tech SingleSource for Medical Devices, a data management tool built specifically to meet the needs of medical device manufacturers. Fully integrated with 1Worldsync™, the leading provider of content solutions, it answers the ever-expanding demands for secure, validated product data. Reed Tech SingleSource allows device manufacturers to centrally and securely manage and share product data with government agencies, customers and other stakeholders around the globe.
Reed Tech SingleSource for Medical Devices was developed by a team of device data specialists to address the unique product data management and syndication needs of the industry. The cloud-based system is fully validated, easy to use and provides a secure central data repository, meeting 21 CFR Part 11 technical requirements. From initial data import stage through the process of review and validation to publication, medical device professionals can rely on Reed Tech SingleSource to efficiently provide the security and compliance controls they need. The addition of this new data management tool continues to expand the options available to users of the Global Data Synchronization Network (GDSN) via 1WorldSync. Device professionals can have peace of mind that current business rules are met and that data is validated and made readily accessible while remaining secure.
"Helping medical device professionals ensure accurate, validated data is securely available for the critical business decisions of internal and external stakeholders is a core mission of the Life Sciences team at Reed Tech," said Arshad Rahman, General Manager of the Reed Tech Life Sciences division. "Reed Tech is a leader for Unique Device Identifier (UDI) regulatory filings to the FDA for medical device companies and Reed Tech SingleSource advances the management of product data even further."
"With this solution, Reed Tech and 1WorldSync bring our organizations' individual areas of expertise together to better serve the medical device industry," said Dan Wilkinson, Chief Commercial Officer of 1WorldSync. "Reed Tech SingleSource combines secure product data management technology with GDSN data syndication capabilities through 1WorldSync to ensure data accuracy and accessibility throughout the healthcare chain."
Reed Tech SingleSource for Medical Devices fills a critical need by maintaining a dashboard of product information at your fingertips. Contact Reed Tech for additional information or to request a demonstration.
About Reed Tech:
Reed Tech is the provider of best-in-class information-based solutions and services to meet the needs of government agencies, the intellectual property market and the life sciences industry. Our customers are located throughout the world and include the U.S. government, numerous Patent Authorities, IP-driven companies, law firms, and a wide range of pharmaceutical and medical device manufacturers. Reed Tech has worked in the patent arena since 1970 with the U.S. Patent and Trademark Office (USPTO) and offers a suite of IP solutions that delivers the results you need across the patent workflow. The corporate culture is driven by a commitment to excellence, innovation, and a strong dedication to our customers, employees and communities. Reed Tech is a LexisNexis company.
For more information, please visit http://www.ReedTech.com
About 1WorldSync:
1WorldSync is the leading provider of product content solutions, enabling more than 25,000 global companies in over 60 countries to share authentic, trusted content with customers and consumers, empowering intelligent choices for purchases, wellness, and lifestyle decisions. Through its technology platform and expert services, 1WorldSync provides solutions that meet the diverse needs of the industry. 1WorldSync is the only product content network provider and GDSN Data Pool to achieve ISO Certification 27001. For more information, please visit http://www.1WorldSync.com.