Polls conducted May 20, 2021
Survey Results
Are you as a medical device manufacturer, in the middle of preparing for the EU Medical Device Regulation (MDR)? Many are trying to figure out their response to the European Commission's notice that the EUDAMED launch was delayed two years from May 2020 to May 2022. Recent indications are pointing to EUDAMED launching slightly later in 2022.
You are not alone, although according to a poll conducted by Reed Tech on May 20, 2021 most of your colleagues have already decided to continue preparations during the voluntary period.  Only 6% of the respondents indicated they will plan for UDI submissions preparation activities just before the 2024 May deadline.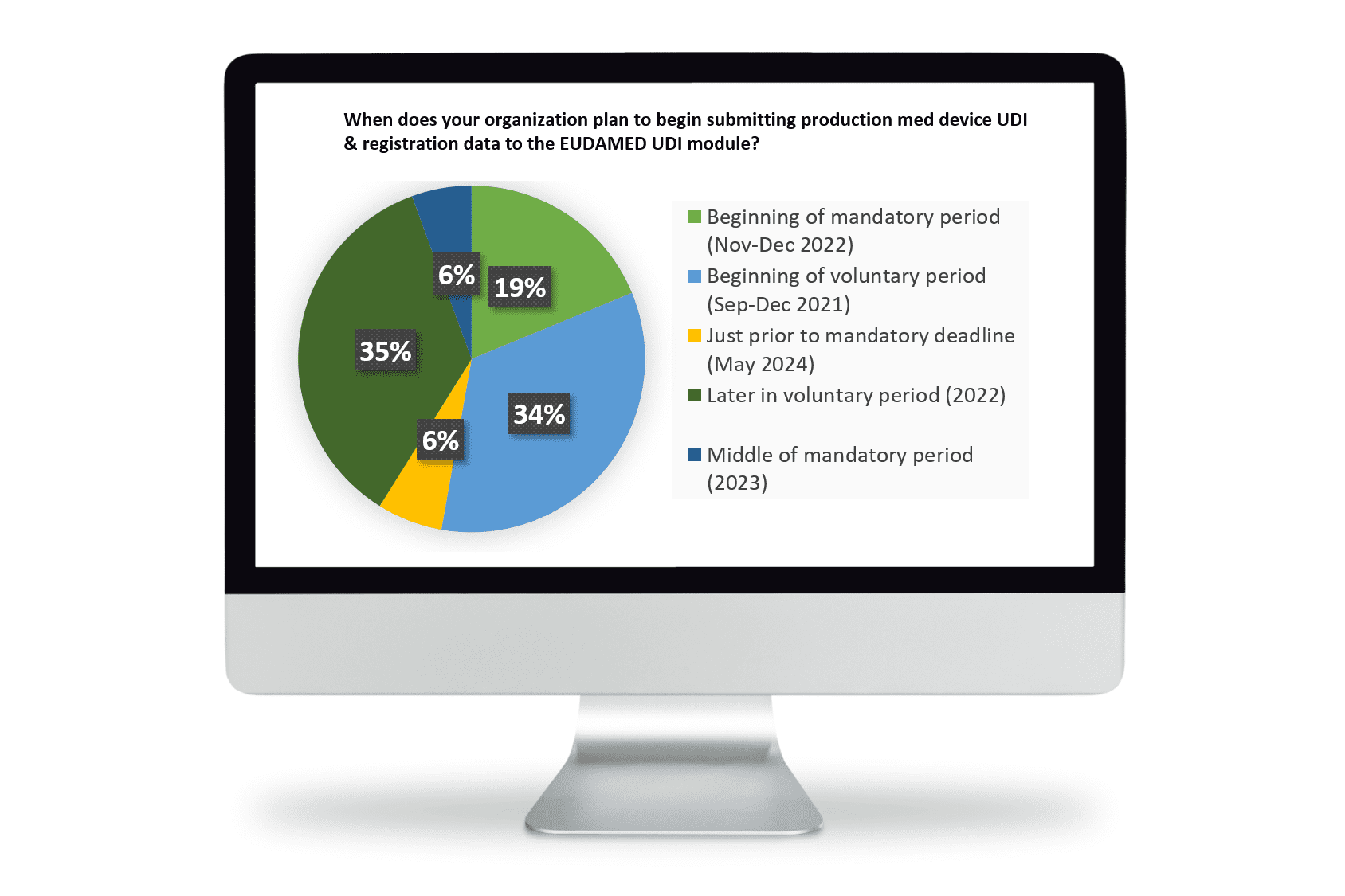 Most manufacturers realize the significant effort to transition from the Medical Device Directives to the MDR and are continuing the MDR preparation activities. They understand the MDR "process" is not delayed and MDR documentation and device registration previously expected to be reported to EUDAMED must still be reported per corresponding Directive provisions in the two-year period. The MDR DoA (Date of Application) of 26 May 2021 has now passed. Voluntary activity for UDI/Device Registration and Certification Module is expected to begin September 2021.
When asked 'what types of products' are you planning to submit first for EUDAMED UDI, the responses indicated almost even weighting between Directive and MDR devices.
If you haven't started EU preparation, accept the break and continue to make progress. Transitioning to EU MDR/IVDR is a huge task and needs significant time and effort. There are multiple EU MDR/IVDR implementation steps including:
Understanding the regulations
Determining your requirements
Identifying gaps
Creating/executing a plan
Preparing procedures/data/systems
Preparing MDR documentation
Engaging a Notified Body and securing assessment approvals
Registering your organization and devices
Updating labels and more
Reed Tech provides valuable help in preparing for EU MDR/IVDR:
Guidance and subject-matter expertise
Data Collection tools
System test environment
Data cleansing platform
Structured UDI repository
Global UDI system
Looking to future needs beyond EU UDI, Reed Tech continues to work on UDI solutions supporting additional global regulatory requirements (e.g. South Korea, Saudi Arabia, China and others.) Contact us to explore how Reed Tech can help you meet your global Medical Device UDI data management challenges and requirements.
Contact us: [email protected]
Phone: +1-215-557-3010