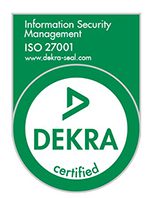 ISO 27001 is the leading international standard for information security management systems (ISMS) and thus the most important cyber security certification. It defines the requirements for the introduction, implementation, monitoring and improvement of an information security management system (ISMS). This certification scope includes the following products: Reed Tech SingleSource™ for Drug Products, Reed Tech SingleSource™ for Medical Devices, Global Data Synchronization Network and Unique Device Identification.
With this certification by DEKRA, the following security processes are assumed.
Ensuring the availability of the IT systems
The conscientious handling of customer data, protection against data loss and misuse
The early identification and reduction of threats and risks
Systematic controls and measures for the continuous maintenance of operations
ISO certification not only requires a security standard for the status quo, but is also subject to a continuous improvement process, which adapts to growing and changing situations.
LexisNexis Reed Tech is a leading provider of regulatory compliance solutions and services to 300+ medical device customers, 1,100+ SPL customers, and annually responsible for ~32% of all electronic submissions to the FDA GUDID including 55,000+ SPL submissions. Specializing in Unique Device Identification (UDI) requirements for global health authorities, we serve about half of the top thirty medical device manufacturers and seven of the top ten providers of pharmaceutical products worldwide. Contact us for more information: [email protected] or [email protected]