As you work on implementing UDI, you may be wondering how to assign the Device Identifier (DI) portion of the UDI to your products and how to make sense of the different levels of DIs in a single GUDID record. These are questions we receive from industry members all the time.
After determining your issuing agency and obtaining a sufficient number of DIs, you will need to assign those DIs to the devices in your portfolio and report them as part of the DI record submission to the GUDID. Each DI record contains at least a Primary DI and possibly more:
1. Primary DI. Every DI record contains a Primary DI, which is assigned to the base package level. This is the smallest packaging configuration in which a device is sold (e.g., a box containing 100 rubber exam gloves).
2. Secondary DI. The Secondary DI is an optional field in the DI record, designed to accommodate a DI from an issuing agency other than the Primary DI agency. For instance, if your company has historically used HIBCC codes for other purposes but decided to use GS1 GTINs as your Primary DIs, you should associate the HIBCC code with the DI record in the Secondary DI field.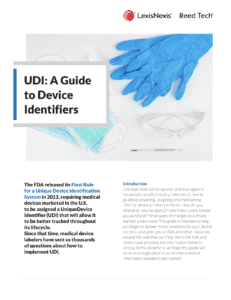 3. Unit of Use DI. This is a virtual DI assigned to some devices, meaning it is reported as part of the DI record but does not appear on the device or label. Unit of Use DIs are assigned when the base package contains more than one useable device. For example, each glove in a box of 100 rubber exam gloves is a device, so the glove would receive the Unit of Use DI.
4. Package DI. If your device is sold in package configurations containing multiple base package units, each package configuration up through (but not including) the shipping level receives its own DI. For instance, the box of 100 rubber exam gloves may be sold in a case containing four boxes. The cases may in turn be sold in a carton containing four cases and the cartons shipped four to a pallet. In this case, the glove would receive a virtual Unit of Use DI, the box would receive the Primary DI and the case and carton would receive Package DIs. No DI would be assigned to the pallet.
5. Direct Marking DI. If your device is subject to Direct Marking requirements, your device will have a DI marked directly on the product. This may be the same or different from the Primary DI.
For more detail on how to obtain, assign and manage DIs, download our eBook, UDI: A Guide to Device Identifiers. Inside is a useful diagram illustrating the different types of DIs, help on choosing an issuing agency and links to UDI resources around the web.
As always, you can contact the experts at Reed Tech with any UDI questions you may have. We are always happy to help.